My journey began with helping one animal: our beloved dog Boomer. 
What made you decide to leave a legacy gift to Farm Sanctuary by designating Farm Sanctuary as a beneficiary on your investment account?
I had wanted to include Farm Sanctuary in my estate planning. I am a member and supporter of different animal advocacy organizations; the reason I chose Farm Sanctuary was that they are the largest farm animal rescue organization in the U.S. I could have chosen some smaller places that could also use the money, but I picked Farm Sanctuary because they are established for 30 years. They won't dissipate or close their doors, as their mission is set well in motion and seems to be for many more years. I wouldn't want to leave money to a group and then have them not use it for the right challenges. It seems that Farm Sanctuary is very well versed in what needs to take place not only for rescue, but also for education and advocacy. 
Was it a simple process?  
It was really easy. I just had to call Farm Sanctuary and get their Federal Tax Identification Number and formal address. I listed this on the beneficiary part of my investment account and that was it; I didn't have to go through a lawyer or anything to do this. Listing beneficiaries is super-easy and can be done with multiple accounts. I was also told that cars and houses can have beneficiaries too; in some cases you may need to put the house in a trust.
How did you feel when it was done?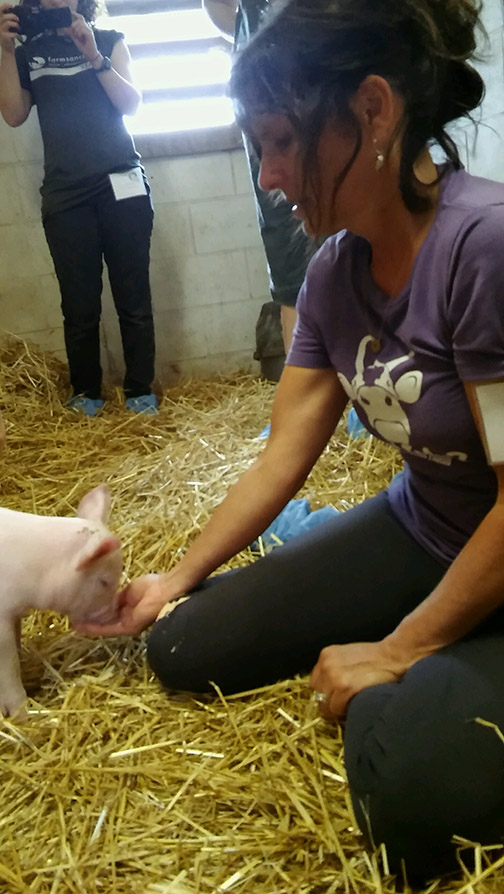 I felt great. Including Farm Sanctuary in my estate planning was something I had wanted to do for a while. I have had a few sleepless nights worrying about designating monies! I don't have children, just fur children.
"I wanted to make sure that a legacy of what is important to me would live on." 
I know that the people of Farm Sanctuary will do this and help animals everywhere. I can't think of a better way to direct money when I am gone than to use it to help animals.
Can you tell us about your visit to the Watkins Glen sanctuary?
It was amazing. I knew I would love going for the first time, but didn't know how much it would affect me and my niece, Dana. We got to spend time with the animals at the farm. We could pet them and feed them and be present with them. We got to know them by name and offer our love back to them. I do a lot of advocacy work on a regular basis, and being able to meet the animals who are ambassadors was very rewarding. When we stood by Hilda's grave and heard the story of how Farm Sanctuary came to be, it was also emotional and very moving. To think that one animal and just a few people turned into this huge organization and could make such a lasting impact — it is really incredible. I can't wait to go back.
What's one thing you wish other knew about farm animals?
How incredibly gentle and loving they are. They are no different than our dogs and cats. They have all the same desires and needs that we do. They are so innocent, too. And we owe it to them to treat them completely differently than the way most of us do now.
"We are their voice, and they need to be heard."
Anything else you want to share?
My journey began with helping one animal, too: our beloved dog Boomer. He had been abandoned, and we rescued him. A few months after welcoming him into our home, I was doing some internet research. In an effort to get pregnant, I was looking for what I might be doing wrong. I stumbled across animals being tested on for our cosmetics, fertilizers, cleaning products — everything under the sun. And the dog I saw on the screen being tested on looked just like our Boomer. I didn't think that night that I was still eating animals, but change was quickly on the horizon. That week we attended a grassroots group's meeting on plant-based eating. By the end of the week, I had made my first vegan dinner — and my husband and I have been vegan ever since. I soon aligned myself with groups like Farm Sanctuary, as they are pioneers of this movement to help animals. I have realized that my purpose is to do just that: help and save the animals.