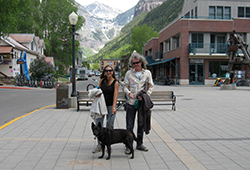 Kel and Carolyn have been together for 34 years, sharing their lives over these decades with lots of dogs and cats as family members and traveling companions. Kel and Carolyn's activism in animal advocacy has included everything from monetary donations to participation in direct actions, such as traveling to protests against the abuse of livestock at the St. Paul stockyards and working to get cockfighting banned in their home state of Oklahoma.
They have been involved in many actions to alleviate the plight of animals, including efforts to aid stray cats used as disposable surgical specimens in a small town high school and dogs used in the same manner at a veterinary college. Every year they travel to Oklahoma City to lobby their state legislators regarding proposed animal bills.
Carolyn is a retired public school music teacher. Kel is a former media salesman who became an animal shelter director for the Humane Society of Stillwater. He served in that capacity for 9 years then he and Carolyn served on the Humane Society of Stillwater board for 6 years. In 1991 Kel and Carolyn created a local weekly cable TV show called "Happy Endings: Pets Go Public!" which showcased all of the homeless dogs and cats at the Humane Society of Stillwater shelter and the city animal control shelter.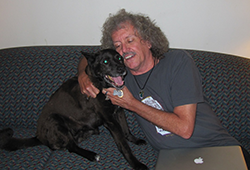 Now Kel is retired from advertising and video production. Both he and Carolyn have been involved in animal advocacy since 1992. This is the same year they became vegetarians after reading an article about a downed cow. They have been supportive of Farm Sanctuary's rescue and care for farm animals ever since. They appreciate and support Farm Sanctuary's stepping in to save and improve the lives of farm animals as well as Farm Sanctuary's legislative efforts.
Farm Sanctuary is a functioning embodiment of the idea that, though saving and improving the life of even ONE animal may seem unimportant to some people, it is important to THAT animal. This idea is fleshed out by the action of rescuing farm animals (in some cases left for dead) and providing them a happier and more comfortable life. Kel and Carolyn believe every animal has his or her own personality and cares about his or her own well-being. They have easily seen this in their many interactions with numerous dogs and cats, but Farm Sanctuary allowed them the experience of seeing this extend to farm animals as well.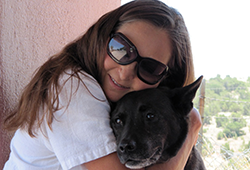 After their visit to the Farm Sanctuary location outside of Watkins Glen, NY, and a stay there for several nights in one of the cabins, Kel and Carolyn saw exactly how their donations were being put to good use for rescued farm animals. Their one-on-one interactions with the animals and the people working there, including Farm Sanctuary President and Co-founder Gene Baur, convinced them.
Gene Baur's later visit to Oklahoma to teach them how to look over cattle and evaluate their conditions at stockyard auctions there gave Kel and Carolyn a renewed respect for his commitment to better the plight of farm animals. In their opinion, he walks the walk.
Kel and Carolyn wish the world would quit eating animals, since it would be better for our environment and certainly better for farm animals in general. Barring that, they wish present food production was more humane, letting the animals live in a normal environment and recognizing them as sentient beings instead of treating them like unfeeling cogs in a giant assembly line. 
Kel and Carolyn hope their donations and legacy gift will help Farm Sanctuary continue their work of rescuing, feeding, healing, and caring for farm animals while also formulating and pressing for the passage of humane and practical legislation to make the lives of farm animals better.
Note: Everywhere Kel and Carolyn could travel by car in the North American continent, their beloved canine friend B.B., pictured with them here, went with them. Sadly, she passed away on June 5, 2013 at the age of 17. The love and care Kel and Carolyn shared with B.B. lives on through the hope and healing they make possible for so many other animals.