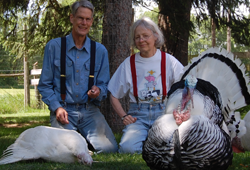 It may seem curious that the clubbing of baby seals in 1985 led us to include a legacy gift to Farm Sanctuary in our current wills. But, had it not been for the publicity of the piteous images of helpless creatures being clubbed to death, this passion in our lives that led us to Farm Sanctuary might not have developed. Those images prompted us to make a small gift to Save the Seals, which triggered a thank-you gift in the form of a book, Animal Liberation: A New Ethics for Our Treatment of Animals, by Peter Singer.
Peter Singer's logic challenged us to think about the food we ate. We became vegetarians in 1985 and vegans, except for eggs from our rescued chickens and turkeys, in 1990.
In 1986, we moved from a house one block from Narragansett Bay in Rhode Island to a 40-acre farm with a huge old barn, several outbuildings, and fenced pastures in Michigan. We had dogs and cats, but we knew nothing about farm animals. But, the barn seemed lonely that first year, so we began to fill its space – first with horses from the 4H Horseback Riding for Handicappers Program and then with chickens. Shortly after, we read an article in Animals' Agenda about Farm Sanctuary, which prompted our first donation. When we learned that Turkey Express, a special annual Farm Sanctuary adoption event, was coming to Michigan, we were intrigued. We converted a corner of the barn into a turkey coop just in time to adopt two turkeys, Julia and Lillian, in 1991. The barn was now alive with horses, chickens, turkeys, a barn cat, barn swallows, and bats. However, there was still an empty, partially open shed with its own pasture that seemed just right for sheep. In 1996, two sheep, Edwin and Melanie, were delivered by Farm Sanctuary along with two more turkeys, Adeline and Cordelia. Since then, we've adopted six more turkeys from Farm Sanctuary, including the most recent pair, Sarah and Esther, and two more sheep, Daniel and the famous Angelo, rescued as a newborn lamb from a transport truck in Bronx, NY. Watching the sheep heading out in single file toward the far reaches of their pasture or seeing the turkeys foraging beneath the tall pines are just some of the special moments we experience each day.
Because our barn is not suited for pigs or cattle, in 1999 we sponsored one of each, Vander and Rose, through the Farm Animal Adoption Network. We have continued sponsoring in an effort to atone for half a lifetime of meat consumption.
Although our current 42 rescue animals (donkeys, sheep, llama, goat, turkeys, chickens, dogs, and cats) are a step in the right direction, we do not have the impact of Farm Sanctuary and its national rescue, education, and legislative programs. Therefore, we believe that financially supporting Farm Sanctuary is an important extension of our modest efforts. To that end, we have supported the Melrose Small Animal Hospital and added a legacy gift to our wills. Thus, what started as concern for seals has wound its way, over 27 years, to membership in the Legacy Society. Farm Sanctuary has been a central influence on our values, behaviors, and sense of self-worth – a kindred spirit in a world of needless cruelty toward animals, especially farm animals.