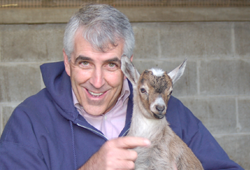 The world is full of suffering – most of which is directly caused or ignored by humans. I believe that through the pursuit of compassion, we have the opportunity to have a meaningful impact on the world. Farm Sanctuary is a special organization that focuses us on a journey of compassion. Each of us is at a different place on that journey. Farm Sanctuary embraces all of us and helps us move in a positive direction. 
I was fortunate that my wife introduced me to Farm Sanctuary more than 20 years ago. Since that time, Farm Sanctuary has inspired me to constantly challenge my choices and actions and continue to move forward in pursuit of compassion. Through direct interaction with the animals, the compassionate care given to the animals by Susie [Coston] and the staff, and the ongoing inspiration of Gene [Baur], Farm Sanctuary has made a permanent and lasting impact on me and my family. In return, I have worked to find a way to contribute to the mission they are pursuing.
Much like the way they have made a difference to our legacy, specifically our children, my wife and I have decided to make a legacy contribution to Farm Sanctuary to make sure future generations of animals, staff, and the people they touch have the opportunity to grow in compassion after we are no longer able to contribute directly. I wish I could do more.