Rick and Kent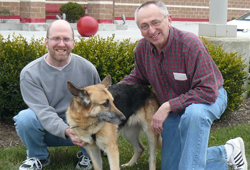 Because Farm Sanctuary's mission so closely aligns with our animal ethics, my partner Ken and I have been faithful and committed contributors to Farm Sanctuary as members of the Friends of Hilda Club. While that allows us to support Farm Sanctuary's vitally important efforts in the here and now, we also want to support Farm Sanctuary in the hereafter. And how is that possible? By becoming a member of Farm Sanctuary's Legacy Society.
For us, it was as simple as naming Farm Sanctuary as the beneficiary of an IRA account that each of us have. And, in so doing and notifying Farm Sanctuary, we became members of the exclusive Legacy Society. For others, options can include naming Farm Sanctuary in a will or trust or making Farm Sanctuary the beneficiary of a life insurance policy or retirement account. One of my favorite mottos is: "If I can't take it with me, I'm not going!" But knowing all too well that I really can't take it with me and that someday I am going, I have included Farm Sanctuary in my estate plans. 
Our best intentions are not good enough. Procrastinating will not help Farm Sanctuary or the animals. Become a fellow member of a higher society – the Legacy Society – by including Farm Sanctuary in your estate plans today!
In 2012, Rick and Ken formed Raising Aid for Dogs At Risk (RADAR), a nonprofit organization that assists vulnerable dogs in shelters.